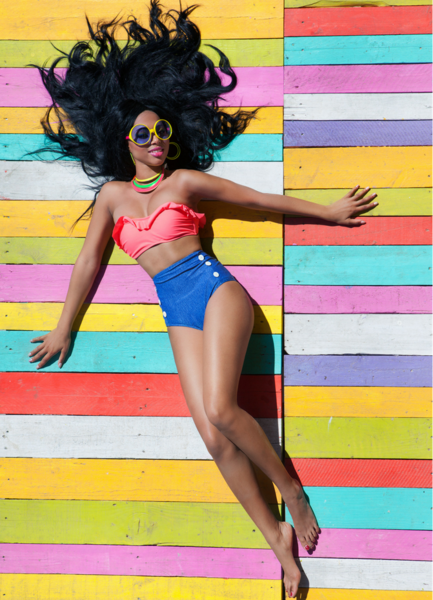 With airlines still jacking up checked-bag fees and summer being the season where less clothing is more, packing in a carry-on is all the more appealing. But can you actually fit everything you need into a measly 22in x 14in x 9in suitcase (even if it's a roller bag)? Yes, you can! Here's how.
1. Only pack things you're 80 percent likely to wear/use.
 Okay, this requires some planning ahead, ladies. This is not for the last-minute, throw-everything-in-unfolded traveler. You need some forethought when you're attempting to travel like a minimalist. One way to help ensure you'll actually wear what you pack is to pick a clothing color scheme. That way, everything goes together and you can create multiple outfits from five or fewer pieces. If you have to cut items, cut the bulkiest things (sweaters and shoes) or wear them on the plane. Oh, and once you've got it all to fit, you've gotta resist throwing in extra stuff right before you leave. Trust us—you're not gonna wear that third pair of heels.
2. Invest in packing cubes. 
eah, they might not seem super glam, but they keep your clothes rolled (yes, rolling your clothes DOES save space; we've tested it) and organized. You can also place full, different outfits in each cube, making it easy to grab your pre-planning clothing. Plus, then you're not digging around for that lost sock or bikini bottom.
3. Roll delicate clothing in tissue paper to prevent wrinkles. 
If you're on a beach vaca, this might only apply to one going-out dress or blouse, but anything that's prone to wrinkles can benefit from this packing trick. Use two pieces of tissue paper to roll that delicate item and save yourself the ironing hassle once you arrive at your destination.
4. Be smart about jewelry packing. 
Wear your bulkiest pieces on the plane. Or stick with the dainty-chain trend and keep necklaces free from knots by threading them through straws. This is one of the best travel tips we've come across—grab an extra straw next time you order a cold bev at the coffee shop and use it to thread your thin necklaces through before you toss them in your jewelry roll or purse. You'll avoid knots and be super proud of yourself when it's time to dress up.
5. Stick with minimal, mineral makeup for easy carry-on compatibility. 
Your full beauty ritual might not be easy to fit into that clear, quart-sized bag. Make sure to stock up on samples or travel sizes pre-trip, but also consider using mineral powders for your makeup routine. They're more likely to stay put in the summer heat than cream products, and they don't count towards your liquids. Try a mineral face powder, blush or bronzer and eyeshadow to save space in that Ziploc bag. And, keep it minimal: A fresh, makeup-free look is so in right now, giving you the space to do a bold eye or lip color that enhances your clothing color scheme. We'd suggest a magenta/orchid lip or a bronzy shadow. 
Totally doable, right? Abide by these five tips and you'll be ready for an easy, breezy summer trip. Bon voyage!